Nursing Research & Training Center
Our university is actively developing regional contribution that gives back to society through the utilization of our expertise by researching health issues and problems faced by the community. The Nursing Research and Training Center cooperates with organizations and individuals to provide multifaceted support.
The Center also plays an important role in supporting the career advancement of nursing professionals. We have thus established a certified nurse education course aimed at achieving nursing practice at a higher degree of specialization and providing training opportunities according to nursing professionals' specialties and careers. With the advancement of medical care, along with the increasingly complex nature of illness and society, nursing care of the highest quality is called for. It is the Center's mission to train personnel with the ability to play this role, and we are working with the cooperation of individuals, nursing professionals, and organizations alike to succeed.
The Nursing Research and Training Center continues to be a bridge between the community and university and to work for the health of the community.
The Center is located on the second floor above the library at Miyazaki Prefectural Nursing University and is comprised of an office, multipurpose hall, Japanese-style tatami mat room, and two collaborative research rooms.
The Center Office

Staffed by nurses and public health nurses, the office is the contact point for our regional contribution work.
Multipurpose Hall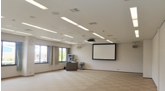 With space for up to 100 people, tables and chairs can be arranged in any format, and the hall is used for meetings and conferences. It is also equipped for visual media.
Japanese-style room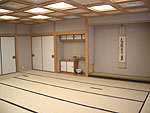 This 28-mat tatami room is a large Japanese-style space with tables available for floor seating.
Collaborative Research Rooms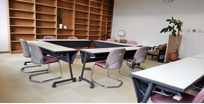 Each can hold up to 10 people, and these private rooms are often used for small meetings and conferences.